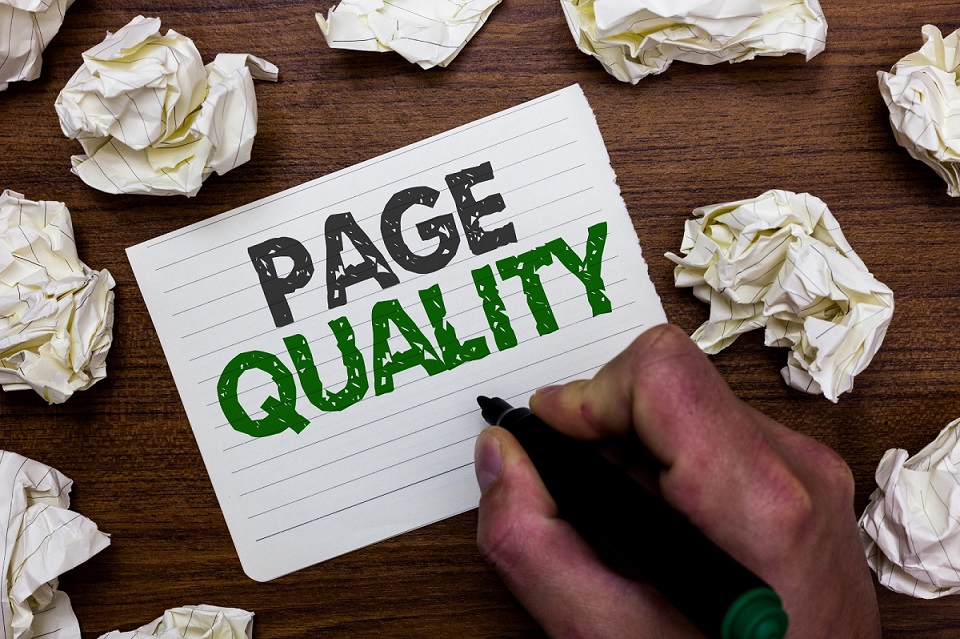 Google's Search Quality Raters Guidelines is a huge document which consists of 168 pages. That means you need to spend hours to digest it. But if you are looking for quick questions about what is a Search Quality Rating? How and by whom is it given?, please keep reading the article. By the way the article is written by a page quality rater who has more than two years of experience.
Who is Search Quality Rater?
Search quality raters are the people who evaluate pages' quality show in the results. Quality raters do not directly change the results, and they are a reason to ban a page. Search engines uses their inputs to improve their algorithm to provide better service for users.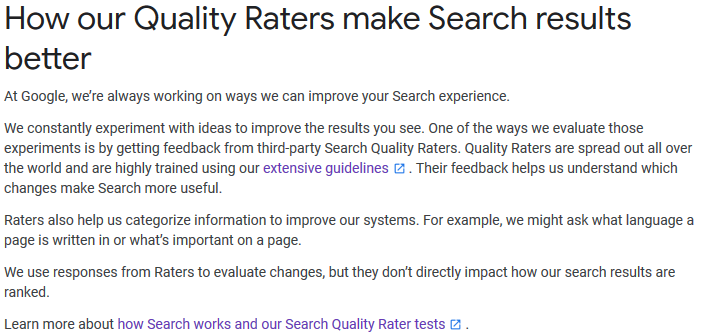 Google defines it as third-party Search Quality Raters on its help page and also references the manual. From what I know, Appen and TELUS International (Lionbridge) companies work in this context. Page Quality Rater, Search Engine Evaluator, or Search Quality Rater, albeit with different names, actually all evaluate according to the Google Quality Rater Guidelines last updated in October 2020. https://support.google.com/websearch/answer/9281931?hl=en

You can reach Google Search Quality Rating Guidelines pdf format from here https://guidelines.raterhub.com/searchqualityevaluatorguidelines.pdf

I worked as a Page Quality Rater at Lionbridge for about two years. Search Quality Raters are selected from the countries they live in. Raters are paid $6-10 per hour they work, depending on their country, as I know. It can be fun at first, but doing the same things later can be tedious. But for those looking for additional income, it can be a viable business.
What is Search Quality Rating?
Google stated that these given ratings do not directly affect the ranking, but contribute to the comparison and improvement of the quality of the results. You can find more detailed information on this page.
https://www.google.com/search/howsearchworks/mission/users/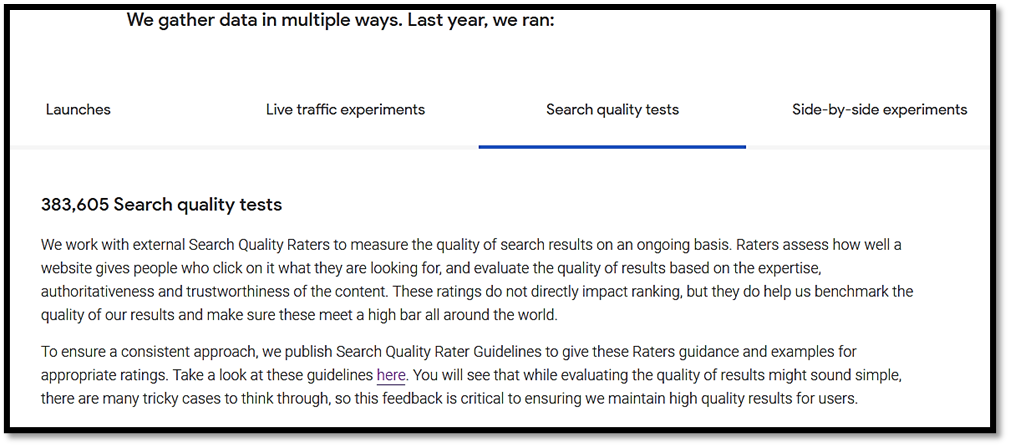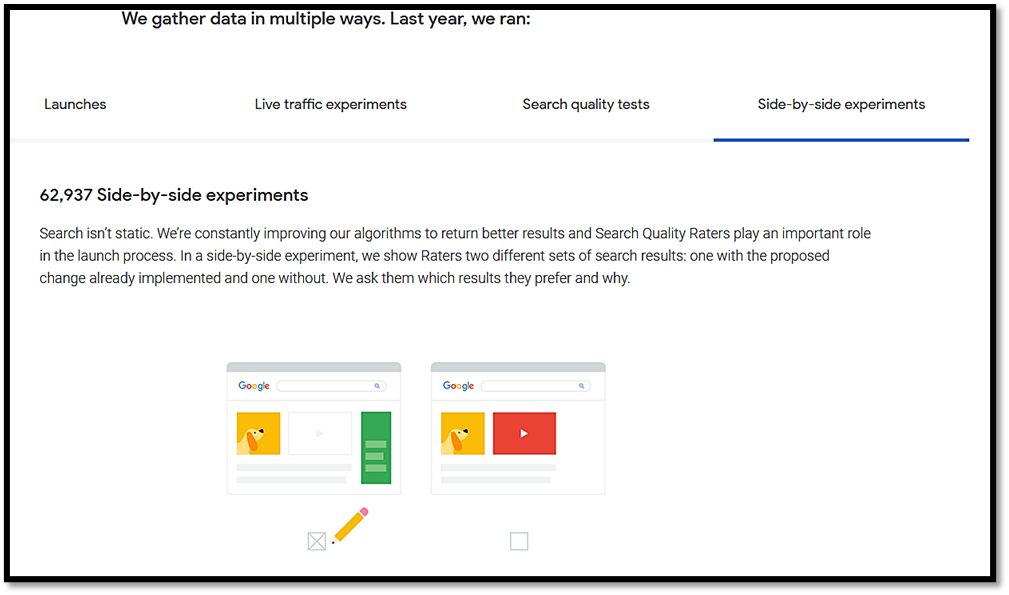 https://blog.google/products/search/raters-experiments-improve-google-search/ (Danny Sullivan Public Liaison for Search Published Aug 04, 2020) you can find up-to-date information on how Search Quality Raters work.
The guidelines essentially consist of two parts. Part one is Page Quality Rating, and part two is Needs Met Rating. We will touch on the details, but in general, if we consider Page Quality Rating as the page's overall quality, Needs Met Rating is the user's degree of satisfaction by the results shown to the user's query. In this article, instead of explaining the guidelines in detail, (Raters need to learn the guidelines in detail) I will try to explain the information that website owners can use for content that can receive high Page Quality Rating and Highly Met Ratings.
What is Page Quality (PQ) Rating?
There are some critical issues in Page Quality Rating evaluation, which we will now talk about. As I understand from my guide, the purpose of Google; to provide support to the algorithm by looking at the web pages that will be displayed to the users in the first place according to the algorithm with the human perspective. Because the points mentioned in the guide are necessary for me to understand that that website is correct and helpful personally.
Now, if we talk about these points, first of all, I would like to state that almost all of these evaluations are made over the mobile browser, and the priority is the mobile browser. Therefore, it is vital to confirm how the web pages look on the mobile browser, especially on the Chrome mobile browser, and work functionally without any problems. If possible, in my opinion, native browsers of widespread phone brands (Samsung browser, Xiaomi browser, etc.) and the widely used Safari browser should be checked periodically that the web pages are running smoothly.
Page Quality is a rating given to each web page individually by the raters on a scale between lowest and highest. We will go into detail later in the article.
If we list the points that are considered for the page quality rating in general:
1. Is the web page mobile-friendly and responsive, and is there anything hindering or blocking the navigation process?
2. The purpose of the web page
3. Clear and Satisfying Website Information: Who is responsible, who is the creator of the main content
4. Is this a your money or your life (YMYL) Page?
5. How is E-A-T (Expertise/Authoritativeness/Trustworthiness) and Reputation?
6. Main content quality and amount
How is the Page Quality Rating Given?
While the page quality rating is given separately for each page, it can be given from Lowest to Highest by rater. If the task is a direct page quality rating task, the page quality grid is populated and a rating value is given as a result. This grid is not filled if it is a side-by-side task, but the rater evaluates the information here, and a rating is given.
This grid consists of: Purpose of the web page, YMYL category, amount of MC (Main Content), information about the website and the creator of MC, reputation of the website and the creator of the MC, reputation information of the website and EAT.

What is Your Money or Your Life (YMYL) Pages?
One of the following most important issues is whether that web page is YMYL or not. To quote the phrase in the guide: "Some types of pages or topics could potentially impact a person's future happiness, health, financial stability, or safety. We have very high Page Quality rating standards for YMYL pages because low-quality YMYL pages could potentially negatively impact a person's happiness, health, financial stability, or safety." Here, we can conclude that Google is trying to deliver high-quality results to users.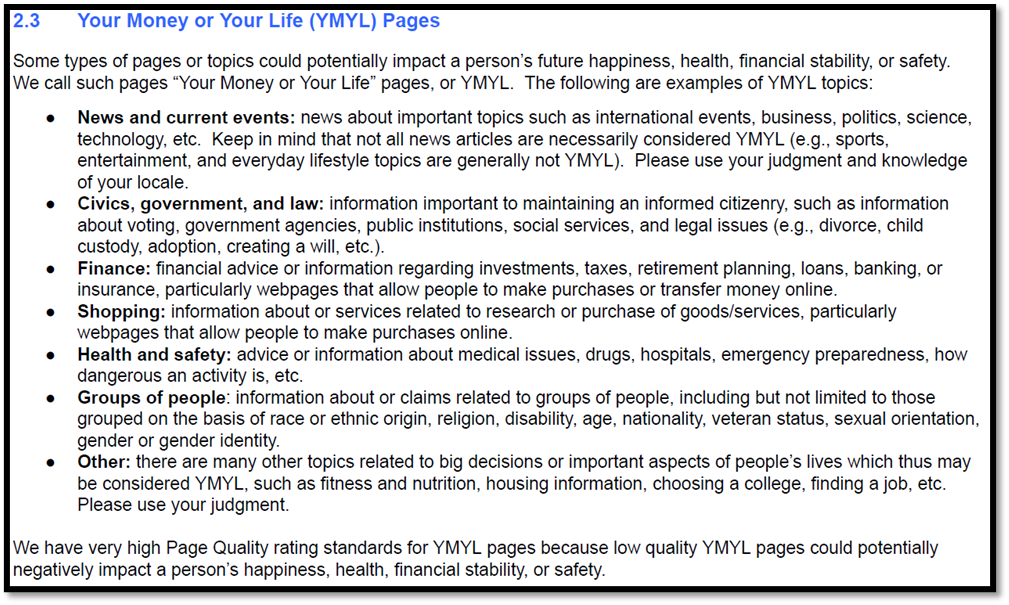 What is E-A-T (Expertise/Authoritativeness/Trustworthiness), and why is EAT so important?
High-quality pages and websites need enough expertise to be trustworthy and authoritative in their subjects. For a rater, the most important issue after the web page is YMYL or not is EAT. It is essential who wrote the main content. The person who created the content must be clearly identified, and any news, comments, and content that will show the EAT of the author that can be found on the internet.
Having a section or a page where the user can find satisfying information about the author and redirects to the pages with information about the author will provide convenience to the user and the rater. Since both users and raters will know some generally known and well-known brands and people, the fact that there is little information about EAT on such sites does not mean that their ratings are low. The trick here is the user should be able to understand the EAT of the content with the information they know and can find. Here reviews come to the fore. If you are not a website or author generally known by EAT, not the comments you can write on your own website, but in independent sources. In other words, the comments you will receive on platforms where both positive and negative comments can be written and accessible to everyone are very important. It is important in this regard that you direct users to comment on the service, shopping or information they receive from you.
Although some ways are shown for google advance searches in the guidelines, when searching by the name of the website, company, or author, perhaps by adding a review at the end, the pages that appear should be constantly checked, and it will be helpful for you to ask your users to add comments there. Though some websites are mentioned as names in the guide, it is your duty to register on websites with reviews specific to each category and ask your users for comments. You can add images to your website's about page or homepage from sites with very high review scores. It will satisfy the users if you provide all kinds of information from the about page and the home page that will show that your EAT is at a good level. Page quality is actually an indicator of how satisfied the user is with that page.
(Websites in the guidelines: Better Business Bureau (a nonprofit organization that focuses on the trustworthiness of businesses and charities), Amazon, Yelp ,Google Shopping and Wikipedia.)
Reputation
Reputation is also important, but not as much as the EAT; However, the guide says that information on reputation does not mean a low page quality rating. But it is a shortcoming for a website or author that has been up and running for a very long time not to have a reputation. In this context, it would be helpful to take some precautions. It can be considered as a kind of backlink in SEO. Priority social media accounts and their follower count can be viewed as an indicator of reputation. Having a LinkedIn account that has come to the fore recently, having a YouTube channel and social media accounts, by regularly sharing there, writing comments, writing answers, and increasing the number of followers will increase the reputation and increase EAT. Of course, it's not enough just to have a reputation, you need to have a positive reputation.
Clear and Satisfying Website Information: Who is Responsible and Customer Service
Understanding who is responsible for a website is a critical part of assessing E-A-T for most types of websites. High quality pages should have clear information about the website so that users feel comfortable trusting the site.
The amount of information needed for E-A-T assessment depends on the type of website. For example, YMYL websites demand a high degree of trust, so they generally need satisfying information about who is responsible for the content of the site. In addition, High quality stores and financial transaction websites also need clear and satisfying customer service information to help users resolve issues.
Other websites that are not YMYL websites may need less website information, depending on the purpose of the website.
As an example, an email address may be sufficient for some non-YMYL websites.
What is Needs Met Rating?
We can define Needs Met Rating as the evaluation of the results of the query made by the users, to what extent the query is met by trying to understand the intention of the user. While there are many examples of this in the manual, I don't think regular website owners must know about them. Here, it is important how much the content created for the website matches the keywords determined by the content and SEO team. That's why I recommend that the content team or content editor review the needs met rating section.
How is the Needs Met Rating Given?
Needs Met Rating is a rating given between Fails to Meet (FailsM) and Fully Meets (FullyM) and is given by evaluating the rate of meeting the user's needs. FullyM is given in exceptional cases where the user's needs are met directly in the special result blocks without going to the page. In general, Highly Meets (HM) and HM+ are given if it needs to be given at an excellent level.

Tips For Getting High Page Quality Rating From The Raters
1. Your website should be mobile responsive and mobile friendly (It will be in your best interest to check your web pages and functionality regularly.)
2. Check your ads and pop-ups; these should not prevent page navigation (especially mobile browser), and make sure that the ads are loaded on the page so that they are not confused with the content.
3. Your About us page and home page should be robust. Be sure to include EAT, reputation, and any information that will ensure the user's trust in a way that does not allow the user to search for you on the internet.
4. Make sure that your website is included in the sites specified in the guide (it may differ according to each country) and try to increase the number of positive reviews on the platforms where reviews can be written as much as you can. Of course, provide good service and content, so your comments are positive.
(Websites in the guidelines: Better Business Bureau (a nonprofit organization that focuses on the trustworthiness of businesses and charities), Amazon, Yelp, Google Shopping and Wikipedia.)
5. Direct your users to get comments on websites that differ according to each industry and can be commented on, especially Google reviews. In the analysis of your competitors, examine which platforms they receive reviews and work to exist on these platforms. If you're going to add comments on your website, don't let it be your own comment, add comments you get from independent sources and users will reach the original review when clicked.
6. Do not forget to open social media accounts (+LinkedIn) and increase your number of followers by sharing content regularly.
7. The main content should be at a level that satisfies the users, and each page should have a purpose and design in such a way that the user can directly access the relevant information (especially in the mobile browser, make sure that the important information is at the top of the page).
8. Regularly perform a user-level test of your website from both desktop and mobile browsers and make sure that it works seamlessly, both visually and functionally.
When we provide SEO services as Prismoon Digital Solutions, we evaluate the Page Quality Rating of the website's essential pages. We also do the Exploratory/Functional Test of the website and present it as a report.